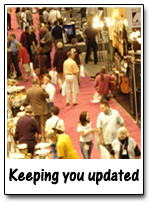 MIAC News
June 3, 2011 - 2011 POST SHOW - The MIAC 2011 Show retains its position as a bellwether and benefactor of the Canadian Music Products Market
May 27, 2011 - Music Industries Association of Canada (MIAC) Announces New Chairman of the Board
May 12, 2011 - MIAC 2011 – Canada's Largest Trade Show for Musical Instruments, Print Music & Related Products
The Music Industries Association of Canada (MIAC) is a not-for-profit trade association representing the interests of manufacturers, distributors, publishers and retailers of musical instruments, print music and associated products. MIAC is committed to promoting the interests of the industry and growing the number of Canadians who play music.
MIAC 2011, Canada's premiere trade event for the music products industry takes place on Sunday, May 15th and Monday the 16th from 10 a.m. to 6 p.m. at the Direct Energy Centre at Exhibition Place. Trade visitors at MIAC 2011 will enjoy an incredible array of products from world renowned manufacturers and distributors, exchange ideas with industry peers and engage with world's leading business minds. Keynote speakers, sessions and networking events will inspire, motivate and unleash every delegate's potential!
As Canada's largest music products show, MIAC 2011 unites every facet of the music products industry under one roof including musical instruments, sheet music, music related computer hardware and software, retail support and parts & accessories. This year there are three main event themes - Building the Canadian Music Products Market, Growing our Community and Creating a Sustainable Livelihood.
The PAL 2011 Show runs concurrently with MIAC 2011. Now in its 10th year, it's Canada's leading professional audio, video, lighting, music, audio visual, system integration and entertainment technologies event. PAL 2011 features hundreds of brands by world leading manufacturers and distributors. In addition to products on the show floor there are business sessions led by leaders in their field, continuing education sessions and social networking events. The PAL Show is the only event of its kind that covers the complete range of current and forward-looking products, technologies and system solutions in their entire depth and breadth for places of worship, corporate offices, special events, post production, live entertainment and broadcast industries.
This year the Music Industries Association of Canada has created The MIAC Excellence Awards. The awards celebrate institutional excellence, individual achievements and contributions to the Canadian music products market and music making. The awards recognize extraordinary accomplishments and contributions of member institutions and individuals identified through peer nomination and selection process.
For the first time MIAC will provide live online streaming of the trade event. Utilizing Roland Systems Group's Canada VR-5, the live broadcast will begin at 9:00 a.m. on Saturday at www.miac.net. Admission to the MIAC and PAL shows is free to all manufacturers, manufacturer representatives, dealers, distributors, retailers, bands, composers, artists / musicians, band / orchestra members and educators.
MIAC is a national trade association representing 400 manufacturers, distributors, publishers and retailers of musical instruments and associated products. Through its programs and services, the association provides information, education, communication, advocacy, industry development and networking opportunities to nurture, develop and promote the growth and sustainability of the Canadian music products industry.
For full information on the MIAC and PAL Shows, including registration and complete seminar and speaker schedules visit www.miac.net and www.thepalshow.com.
Media should register on site and then visit the Media Centre / Show Office to pick up event related material. Staff will arrange interviews and direct crews to the best location for photo opportunities.
For further information, please contact:
Barbara Cole
Executive Director
Music Industries Association of Canada (MIAC)
Tel: 416.490.1871. Ext. 104
E-mail: Barbara@miac.net
Karl Eichner
MIAC Communications Consultant
Eichner & Associates
Tel: 705.778.2212
E-mail: keichner@nexicom.net
Click Here to download the full press lease.