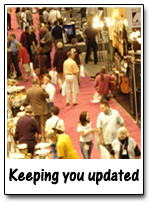 Free Electronic MIAC Newsletter

Sign up below to receive your FREE MIAC Newsletter.

Your e-mail address is completely confidential and we will never give your e-mail address to any other party.

You will receive monthly e-mail updates on Show information, Industry information, MIAC news and much more.

If you would like to sign up for the French version of the MIAC Newsletter, please visit http://miac.net/francais/bulletin.php.